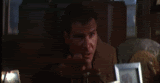 Rookie Rep Detect

Posts: 47
Joined: Tue Oct 16, 2007 5:32 am
Location: Pleasuredome 69; Dystopia 23
deleted wrote:No, his body of work isn't perfect. But what he HAS done that works, tends to work brilliantly. And even in his mediocre projects, his visual style is unparalleled.
There are several other directors who are on par with his visual style.
maledoro wrote:NOBODY had made the claim that they knew EVERYTHING about the sci-fi genre. Scott admitted to not liking nor knowing the least bit of sci-fi. A totally different argument.
deleted wrote:Scott is not entirely correct then, because regardless of either of those claims of his, I would rather have him direct a sci-fi film these days than most other directors. His previous work is a good enough resume to prove that he can handle the genre as well as, or better than, most of his contemporaries.
You never know. I have faith that he could put out another good sci-fi film, but he could also churn out something terrible, even with his success with
Alien
and
Blade Runner
(the former being my Number One favorite film). As I had said before, most of the ideas he had talked about during the production of
Alien
were horrible.